Celebrating 25 Years
Looking back:  In June 2006, the Pacific Institute released Desalination, With a Grain of Salt, an assessment of the advantages and disadvantages of seawater desalination for California. The Institute's analysis has proven to be a key tool used by policy makers, regulatory agencies, and local communities and advocacy groups to raise and address issues with specific proposals. The report has been downloaded from our website more than 600,000 times and continues to be one of our most popular publications every month. With such demand for information on desalination, the Pacific Institute initiated a new research project in 2011, which included conducting some 25 one-on-one interviews with industry experts, water agencies, community groups, and regulatory agencies to identify key outstanding issues in desalination. This month, we released Proposed Seawater Desalination Facilities in California (see story below), the first in a series of reports in progress looking at environmental impacts of seawater desalination, the cost and financing of proposed projects, and energy requirements and their greenhouse gas implications. In 2006, author Heather Cooley said, "The intent of the study was not to take a side, but to have a public, open, systematic decision-making practice." The new work on desalination continues to focus on providing communities and decision makers with information needed to create a more rational and sustainable policy around seawater desalination along the California coast, and elsewhere.
New Research Shows Social Vulnerability to Climate Change in California and Identifies Need for Adaptation Planning
Click to view maps of the modified Social Vulnerability Index in California.

The report Social Vulnerability to Climate Change in California shows that addressing social vulnerability – the susceptibility of a given community to harm from a hazard – in climate change policies and response strategies is critical to California's future. With some degree of climate change unavoidable, communities must begin developing and implementing adaptation plans, and integrating social vulnerability into their strategies is key.  

Social and economic factors – like age, race, income, lack of access to a vehicle or other means of transportation – directly affect a community's ability to prepare for, respond to, and recover from climate impacts. The new report identifies geographic areas within the state with such heightened risk to projected climate impacts. For example, the number of extreme heat days is projected to double and in some areas increase by 500% by the end of the century. This will be especially problematic for those with heightened vulnerabilities, many of whom are concentrated in Los Angeles, Orange, San Diego, and San Bernardino Counties. And sea-level-rise-induced coastal flooding is largely centered on the San Francisco Bay Area and the Los Angeles region – with more than half of the population at risk of inundation in Contra Costa, San Francisco, and Monterey counties in the top 30% for social vulnerability.
To address these vulnerabilities, communities need to begin developing and implementing adaptation plans, with local planning processes that directly involve communities most vulnerable to harm when developing appropriate preparation and adaption strategies.
Read more.
Read the full report.
Read the abstract.
"In the water field, the Institute's work ranks among the most widely cited in the world."  
- Sandra Postel, founder
Gobal Water Policy Project
Reports to Date 2012:

Social Vulnerability to Climate Change in California
Community-based Adaptation Planning: Case Study of Oakland, California
The Impacts of Sea-Level Rise on the San Francisco Bay
Implications of Future Water Supply Sources for Energy Demands [WESim]

Proposed Seawater Desalination Facilities in California
Hydraulic Fracturing and Water Resources: Separating the Frack from the Fiction

Water as a Casualty of Conflict: Threats to Business and Society in High-Risk Areas
mWASH: Mobile Phone Applications for the Water, Sanitation, and Hygiene Sectors
Peter Gleick talks with Public Radio Station KPCC about the implications of the drought. Listen here. 
Pacific Institute Releases Update on Seawater Desalination in California
Map of Proposed Seawater Desalination Plants in California
The new analysis Proposed Seawater Desalination Facilities in California shows strong continued interest in desalination and includes details and maps of proposed and existing desalination plants in the state. As of July 2012, there are 17 seawater desalination plants proposed for development along the California coast, with two additional plants that would provide water to southern California also under consideration in Baja Mexico. Many agencies continue to conduct technical and environmental studies and pilot projects to determine whether to develop full-scale facilities.
More research and analysis are needed, as concerns about the reliability and availability of water supplies and continued population growth continue to drive coastal communities to seriously consider seawater desalination as part of a diverse water portfolio. The new report is the first in a series of research reports in progress that identify key outstanding issues that must be addressed before additional proposals for new seawater desalination in California are approved.
Read the full report.
View a map of the Existing Seawater Desalination Plants in California (Google Maps)
View a map of the Proposed Seawater Desalination Plants in California(Google Maps)
Read Desalination, With a Grain of Salt (2006).
New Water-Energy Simulator Helps Water and Energy Managers Plan for Change   
Example water demand scenario demonstrated using the WESim model

The Water-Energy Simulator (WESim) is an easy-to-use analytical tool that can be used to evaluate the energy and greenhouse gas implications of water management decisions. The Excel-based model allows the user to explore a range of possible scenarios, such as increased demand for water resources, the development of alternative water and energy sources, and needed water treatment improvements resulting from emerging contaminants and stricter water-quality guidelines. WESim can be applied by individual water and energy utilities, groups of utilities, and policymakers and decision makers. A WESim User Manual and report, Implications of Future Water Supply Sources for Energy Demands, are provided, as well.
Multiple factors will influence the energy intensity of the water sector in the near future: climate change will affect water supply, quality, and demand; population growth, water use patterns, technology, and price all will affect water demand; and emerging contaminants may require more energy-intensive treatment technologies. These trends highlight the need for a clear and consistent methodology for evaluating the energy and greenhouse gas implications of water management decisions.
Download the WESim model (Excel).
Download the WESim User Manual.
Download the WESim report: Implications of Future Water Supply Sources for Energy Demands.
Water Utilities, Local Government Agencies, and Community Organizations Test Customized Control Panels in Indonesia WATER SMS System
Indonesia WATER SMS team members explain aspects of the system dashboard to leaders of a Malang-area community-based organization (Rumpun) and a community water provider (HIPPAM).
In July, water utilities, health departments, community water suppliers, community-based organizations, and other stakeholder groups in Malang and Makassar, Indonesia, had their first look at the Indonesia WATER SMS System. Project staff from Nexleaf Analytics, Martin Lukac, and Pacific Institute's Misha Hutchings gave live demonstrations to small groups of personnel from the stakeholder groups, followed by a hands-on session where they could send messages from their mobile phones, and then access their own reports through the customized control panel, or dashboard.
T
he groups involved in the demonstration and test included representatives from the local water utility; health, planning, and public works departments; community-based water providers (informal water sector); and other organizations that will respond to inquiries sent to the system by community members, or will regularly be utilizing the data from the system for public service purposes. They provided feedback on necessary features, and will review subsequent iterations of the system throughout the summer and fall.
Staff from the Makassar city water utility send test messages to the Indonesia WATER SMS System.
Indonesia WATER SMS, a mobile-phone-to-web mapping system to facilitate communication and information tracking between urban Indonesian water stakeholders, is being developed through a pilot for the WASH SMS Project by the Institute's International Water and Communities Initiative. The Indonesia pilot is in its second year, and will run a two-month, public pilot test in 2013 before releasing the open-source platform.

Read more about the Water SMS project.
Pilot Testing Community Choices for Water in Burkina Faso
Residents who used the Community Choices for Water tool with their purchased water treatment technologies.
Over the past year, the Pacific Institute, in partnership with Water and Sanitation for Africa, has been conducting learning sessions in Burkina Faso to develop Community Choices for Water (CCW), a decision support tool that assists households in identifying the most appropriate technologies to employ for treating their water.
Between June 19 and July 7, 2012, the beta version of Community Choices for Water was piloted in three communities near the Burkinabe Capital, Ouagadougou. Pacific Institute researchers went into the field for three weeks to Boansa and suburbs of Saaba and Sabtenga to test the effectiveness of the decision-support tool in helping households treat water. In each of these communities, access to potable water and adequate sanitation are major challenges.

One hundred twenty households from the three communities participated in a knowledge-based assessment on water pollution and point-of-use water treatment. From this assessment, researchers observed that all sampled households access water from boreholes, usually more than 1 km from their communities. This happens in the dry season when all their surface water bodies are dried up. However, during the rainy season, there are pools of water surrounding their communities from which the community accesses water. Though all households stated that water from the pools was not safe to drink because of poor sanitation conditions, the most that households did to treat their water was to filter the polluted water with a cloth filter.
From these analyses, the alpha version of the Community Choices for Water was introduced to the three communities. Each household responded to a set of questions which recommended various possible technologies based on households' responses. Participants received explanations on the various technologies using visual aids that enabled them to make choices of which recommended solution best fitted their situation. The pilot testing team then assisted households in locating sales outlets to buy the various technologies.
From the pilot testing, the following observations were made:
Households lack knowledge of household water treatment options.
Households were willing to pay for the technologies but their ability to pay within the short pilot-testing period was limited.
Supply chain is an issue since most technology parts or assemblies were not found in Burkina Faso.
Community members believed the process of responding to the questions in CCW for recommended solutions was very helpful, and they were satisfied with the tool as a decision-s

upport tool.

Some community members proposed to use the knowledge from the CCW to set up businesses on household water treatment by constructing simple Biosand filters and selling to those in remote villages who have not been reached by NGOs.
Read more about the Community Choices for Water tool.  
Notes From the Field: Resident Says He Would Use Information from Community Choices for Water Tool to Be an Agent of Change  
By Dr. John Akudago, Senior Research Associate
This pond is where the people of Bissighin access water.
Jean Zoundi is a 51-year-old man from Bissighin, a community located in the Commune of Saaba, which is about 25 km East of Ouagadougou in Burkina Faso. When I learned that the village was 22 km away from the Burkinabe Capital, I thought there was no need to go there to treat water since there would be running water. To my surprise, Mr. Zoundiled me to a pond that over 600 people depend on for drinking and other domestic purposes (see photo).
When asked if households treat their water after transporting it from the pond, Mr. Zoundi responded, "In a large family of ten people, how much boiling can one do to get enough clean water for use? Where is the firewood to do that, and who has time to do that? We normally use filter cloth but sometimes we just drink directly from the pond not knowing what the quality is." He went on to say that almost everyone in their community suffers from guinea-worm infection at least 1-3 times per year. He showed me the scars on his leg where guinea-worms were extracted….. Read more.  
Pacific Institute Hosts Water Rates Workshop for California Water Agencies and Boards
The Pacific Institute, in collaboration with the Alliance for Water Efficiency and the California- Nevada Section, AWWA, is conducting two workshops that address a question central to many water suppliers today: how to create effective water rates that both reduce water demand and provide enough revenue for water system improvements as well as provide for long-term environmental and financial stability.
The one-day workshops will be held at the University of California – Davis on September 11 and in Carson, Calif. at the West Basin Municipal Water District on September 13, 2012. The workshops will review the results of a survey on rate-setting in California, provide information about new and existing rate-setting, and feature several success stories to communicate the advantages of effective rate structures to boards and rate payers. Please join us for an interesting and productive day.
Who should attend?
Staff and board members at water utilities, districts, and municipalities as well as policy makers, universi­ties, and anyone interested in water rate-setting in California.
Agenda topics:
Get more information about the Water Rates Workshop in Davis, California on September 11.
Get more information about the Water Rates Workshop in Carson, California on September 13.
Pacific Institute Submits Comments to the Santa Margarita Water District on the Cadiz Final Environmental Impact Report
In June, Pacific Institute's Dr. Newsha Ajami submitted public comments on the Draft Environmental Impact Report (DEIR) of the Cadiz Water Conservation, Recovery, and Storage Project bringing up concerns and limitations with the DEIR. Last month, the Santa Margarita Water District (SMWD) released the Final Environmental Impact Report (FEIR), which responded inadequately to the comments and concerns raised by various organizations and individuals about the DEIR. After review, the Pacific Institute found the response to our comments insufficient and lacking information that would address or clarify concerns. Dr. Ajami responded to the Santa Margarita Water District, bringing up five main points the Pacific Institute regarding our comments and the responses presented in the FEIR:
*    The entire project has been built on a shaky and uncertain foundation that can fall apart at any time.
*    The groundwater management plan will miss significant impacts after project completion.
*    The Cumulative Net Water Savings of the project are over-estimated.
The Pacific Institute finds the Cadiz Water Conservation, Recovery, and Storage Project has very limited scientific merit and relies on unsustainable mining of groundwater, designed to extract groundwater at a rate exceeding natural recharge. While Cadiz could generate profits for 50 years, the public will be left to handle possible negative environmental and ecological consequences of this project of years to come.
The Final Environmental Impact Report for the Cadiz Project was certified by the Santa Margarita Water District board on July 31.
Read Dr. Newsha Ajami's
letter
to the Santa Margarita Water District.
Report from Circle of Blue  

Circle of Blue, an affiliate of the Pacific Institute, is the international network of journalists, scholars, and citizens that connects humanity to the global freshwater crisis.
What's in a drought and who makes the call?
In Birth of a Drought Report, Circle of Blue goes behind the scenes of the widely cited Drought Monitor to reveal the weekly push and pull between hundreds of hydrologists, climatologists, and agronomists who offer recommendations about how to map the startling complexity that comes from trying to define months of reluctant precipitation.
And… high temperatures and a lack of rain are withering corn in the Midwest, the breadbasket of the United States. Dry conditions are expected to persist until early fall. Explore the implications in this infographic.
In Brief
Five Pacific Institute Staff at Stockholm World Water Week this Month
Stockholm World Water Week is the leading annual global meeting place for
capacity-building, partnership-building, and follow-up on the implementation of international processes and programs in water and development. The 2012 theme is "Water and Food Security."
Globalization Program Director Jason Morrison, with program research staff Mai-Lan Ha and Peter Schulte, will be on board in Stockholm at the end of August, with Mr. Morrison facilitating the session "Tool Developer Perspectives on Applying Water Stewardship Tools in Industrial Settings" in his role as Technical Director of the UN CEO Water Mandate. He will also be discussing Stewardship Progression at the opening of the seminar "Towards Sustainability: Harmonizing Corporate Water Tools for Better Water Governance."
Dr. Juliet Christian-Smith, senior research associate in the Water Program, will be presenting "Quantifying the Potential Water Savings Associated with Irrigation Efficiency Improvements" at the workshop "Best Use of Blue Water Resources for Food Security." She also has been asked to summarize and report out conference conclusions around governments' practices that are advancing food and water sustainability.
Kristina Donnelly, research associate in the Water Program, will be serving on the Young Water Professionals Scientific Program Committee.
Look for details on our work at Stockholm World Water Week in the September edition of the Pacific Institute Online Update!
Pacific Institute staff members gave talks and lectures, conducted workshops, and participated on panels far and wide this month. Here are some of the places we've been:  
Matthew Heberger, Research Associate:
- spoke about "Managing Groundwater as if the Environment Mattered: Policy and Management Reform in Western States" at the East Bay Municipal Utility District office during a lunchtime speaker series.

Heather Cooley, Water Program Co-Director
- participated in a Commercial, Industrial, Institutional (CII) Task Force meeting in Sacramento, California.

Juliet Christian-Smith, Senior Research Associate
- participated in the California Roundtable on Water and Food Supply, Davis, California
- lectured at Skyline College, San Bruno, California.
Upcoming Events – Dr. Peter Gleick at SF Commonwealth Club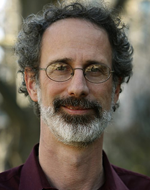 Dr. Peter Gleick will be speaking on "The Future of Our Water – Can We Learn from the Past?" at the Commonwealth Club in San Francisco on Thursday, September 13 at 6:00 PM. Dr. Gleick will look at the future of our water challenges here and abroad, drawing on lessons learned over the past 2,000 years to describe the three "Ages of Water." He will offer suggestions for moving to a more equitable and sustainable future.

For more information and to purchase tickets, click here.

Location: SF Club Office
Time: 5:30 p.m. networking reception, 6 p.m. program
Cost: $20 standard, $8 members, $7 students (with valid ID)
Program Organizer: Christie Batterman Jordan
In the News 
- Senior Research Associate Michael Cohen, in an article by the Albuquerque Journal's John Fleck, argued that area that depends on the Colorado River Basin still has great potential for water conservation.
-Mr. Cohen also spoke about the future of the Salton Sea in the Colorado River Project's River Report and proposed projects in The New York Times.
-Water Program Co-Director Heather Cooley spoke with Dorsi Diaz from the SF Examiner about our new report on social vulnerability to climate change and the many social and economic factors that interact and determine vulnerability to a climate impact or other hazards.
Eli Moore, co-director of our Community Strategies for Sustainability and Justice Program, coauthored with Adam Kruggel of the Contra Costa Interfaith Supporting Community Organization and LaVern Vaughn, community researcher for Safe Return Project, the article "Criminal Justice System is at Crossroads in Contra Costa" for the San Jose Mercury News
and Bay Area News Group papers.
The Safe Return Project
is a participatory research and action initiative led by a group of formerly incarcerated Richmond residents carrying out research, community organizing, and policy advocacy to improve community reintegration after incarceration. In this partnership with Contra Costa Interfaith Supporting Community Organization (CCISCO) and Richmond Office of Neighborhood Safety, the Pacific Institute provides capacity building, coordination, and research support.